Traversing Around Town: Some of our Favorite 2019 Summer Memories!
#FindNewRoads
I received a Chevy Traverse loan in exchange for this review. All opinions are my own.
Friends, I find it really cool that many of our most memorable summer 2019 moments took place over the span of a single week…the same week I received a gorgeous 2019 Chevy Traverse loan.
For those of you who've been reading my blog,
You know I have a special place in my heart for this U.S. car maker. When given an opportunity to try a new vehicle from Chevrolet, I get really excited and tend to post my shenaningans on here.
Over the summer, we didn't really travel much. We stayed in town for the most part, enjoying nearby outings with the boys on weekends. We also experienced a few things that will probably remain in our memory for a while:
We enrolled Benny in little league baseball— he's now part of the Sylmar Independent Baseball League Orioles team.

I took Benny and Toby to a local recycling center in hopes that they would see the value in making extra cash while helping the environment— But the $10 they earned was spent on arcade machines and candy.

We welcomed my sister Irene (nina) back home. She relocated to SoCal after having lived in San Francisco for several years.
For all of the above, We had the company of a gorgeous graphite metallic-colored Chevrolet Traverse that got us from point A to point B comfortably, safely and in style.
For Benny's new Baseball commitment,
The Chevy Traverse proved to be a great vehicle. I drove it to a baseball park in a hilly area of Sylmar. The drive was extremely smooth. Featuring a V6 engine with a 9-Speed automatic transmission, this beauty of an SUV, has all the features a mom could ask for:
It's 4G LTE Wi-Fi® hotspot capable, which means you can be connected while you drive, which means, hands-free calls, GPS navigation, Pandora playlists on full blast, all that good stuff.

OnStar® & Chevrolet Connected Services

Lane Change Alert with Side Blind Zone Alert…I'm all about staying in my lane! Thanks Chevy.

Rear Camera Mirror…Yasssssss. Perfect for someone like me who forgets that my mailbox is super close to my driveway

Rear Park Assist…because a girl is still trying to figure out parallel parking!

Rear Seat Reminder…never, ever forget your kids when you leave the car again.

Rear child security door locks
For his tryouts, Benny wanted to pack his baseball bat and training gear in the back of the Traverse. Once we left home, he wanted to play DJ Marshmello music at full blast.
For our recycling trip—
We held a Lion King-themed play date over the summer and well, there were a lot of empty cans and bottles after the party. Perfect opportunity to make a trip to the recycling center, right?
Well, we did just that.
First, we loaded our recyclables onto the Traverse.
BTW, this SUV can accommodate up to eight passengers.
The trunk space was perfect to fit three big bins full of plastic, aluminum and glass containers.
We could have created more space by adjusting the split-folding third row bench seat (you can fold one or both sides down) but since all of our recyclables fit perfectly well, we didn't move the back bench seat.
We visited a recycling center in Van Nuys
I immediately put the boys to work. They started sorting the bottles by material—plastic in one basket, aluminum in another, etc.
Then it was time to stand in line and get their bottles weighed and get paid.
Standing in line was probably the worst part of the experience because it was one of those awfully hot, triple-digit-heat type of days in the San Fernando Valley.
Still, the boys survived (with plenty of whining) and made about $10, which they split in half.
Then we got back into the Traverse and I must say, the fresh, cool AC system quickly got us in a better mood.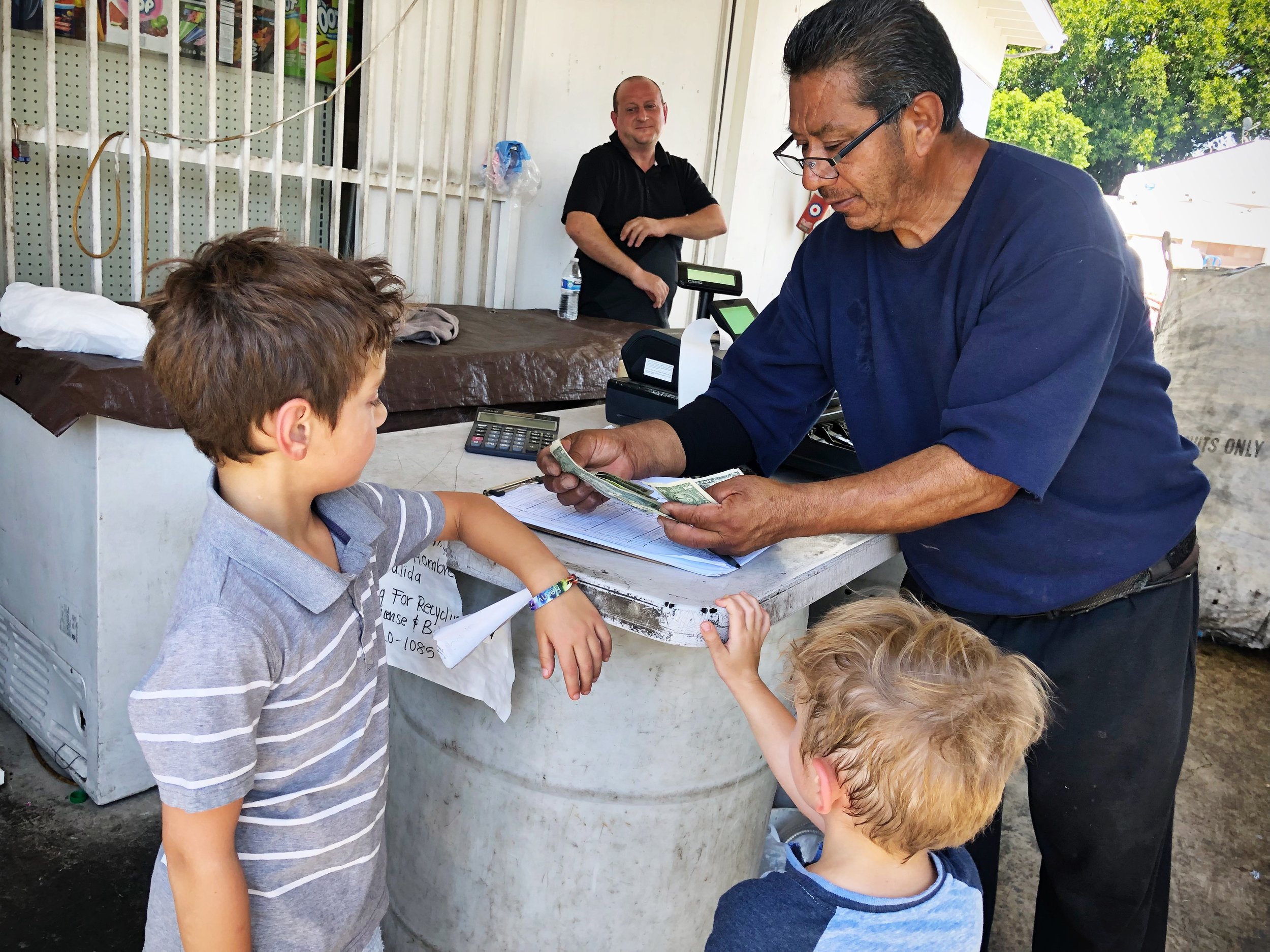 The Chevy Traverse has this really cool feature
It literally helped cool off our buns…lol It has ventilated seat cushions and seatbacks. Ahhhhhhhh, the relief!
Our August drive to Oxnard
Was a perfect opportunity to experience the Traverse for a longer period of time.
We were eager to welcome my sister Irene back home. She had just driven back from San Francisco to stay for good and we couldn't let a single day pass without wishing her a happy homecoming.
The drive from the San Fernando Valley to Oxnard is about 55 miles.
It's not too bad of a drive, especially if your vehicle's has good fuel efficiency. The Chevy Traverse has a Fuel Tank Capacity of approximately 19 gallons.
The EPA's estimated fuel economy for highway use is 27 miles per gallon (MPG).
When we arrived in Oxnard,
It was cheers, hugs, laughter and a spontaneous celebration for the boys to have their nina Irene back home.
It's almost as though our summer vacation granted everyone an opportunity to #FindNewRoads and we were thrilled to drive the Chevy Traverse and celebrate the different destinations to which it led us!
By the way, pricing for a Chevy Traverse starts at $36,595.
Did anyone else enjoy a new ride this summer?
Thanks for reading, friends!
Xo,
-Anabel M.